Plant responses to abiotic stress combinations
Dr. Zvi Peleg, R.H. Smith Institute of Plant Sciences and Genetics, The Hebrew University of Jerusalem, Israel
Abiotic stresses, such as drought, soil salinization and heat waves, are the major and most prevalent environmental constraints limiting crop productivity and causing devastating economical and sociological impacts. As sessile organisms, plants must regulate their growth and development to survive the unfavorable environments. To cope with these conditions, plants have evolved various escape, avoidance or tolerance mechanisms at the molecular, cellular, and whole-plant level. Plant responses and the ensuing acclimation processes varied depending on the duration and severity of the stress, as well as on the plant age and developmental stage.
Abiotic stresses have been extensively studied as single stresses. However, under both natural and agricultural systems plants are constantly exposed to different combinations of stresses, which exceed the damages caused by the single stresses (Figure 1).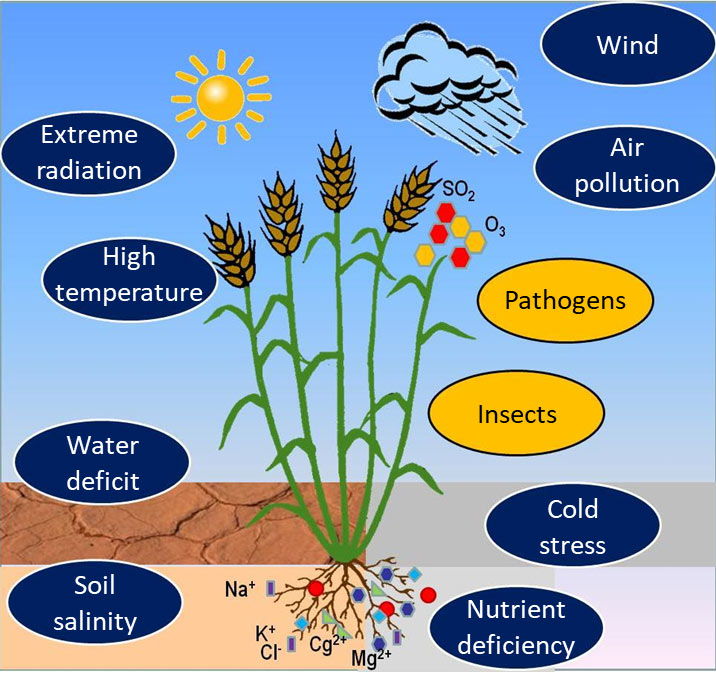 Combinations of environmental stresses are predicted to aggravate in the near future and surpass the adverse effects single stresses have on plant performances and yield production. Tolerance to a combination of environmental stresses involves multiple pathways and cross-talk between different sensors and signal transduction pathways. Exposure of plants to a combination of two stresses resulted in a specific physiological, molecular and metabolic stress response that could not be inferred from exposure to the individual stresses (Figure 2).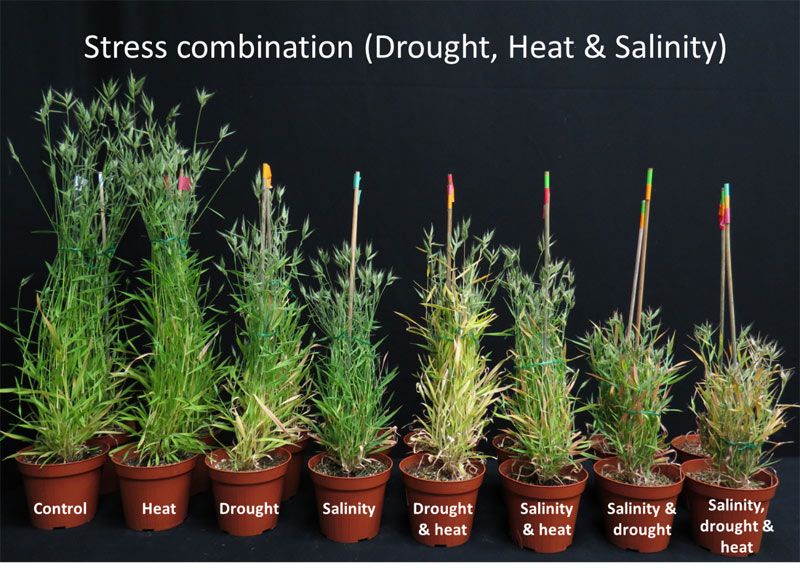 These responses are affected by interactions between the different stresses, which can act either antagonistically or synergistically. An antagonistic interaction resulting from a combination of heat and drought stress was demonstrated in Tobacco. Plants that were subjected to heat stress opened their stomata, probably to cool the leaves by transpiration. However, when heat was combined with drought, plant stomata remained closed, resulting in higher leaf temperature than under heat stress alone. Heat and salt combination provided a higher degree of tolerance compared with salt stress alone. This result, which suggests a synergistic effect, stands in contrast to the expected negative effect of heat and salt combination, since enhanced transpiration to cool the leaf is projected to result in enhanced toxic ion uptake. The results gained from the limited number of studies on stress combinations, emphasize the gap between the information acquired by most single stress studies and the knowledge needed to develop crops that are tolerant to suboptimal field conditions.